Banknote authentication: where we start?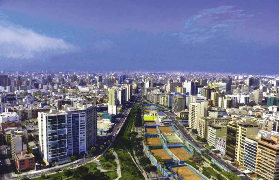 Banknote authentication: where we start?
30.10.2016
It is a well-known fact for Russian bank employees and experts that banknote authentication starts with checking requisites. However, unfortunately, it is not a common practice today. The Peruvian fake dollars serve a good example of how it's crucial to verify, firstly, the requisites on banknotes.

Counterfeiting in Peru
In spring 2016 a group of counterfeiters were arrested in Peru, with the Peruvian police having found $ 30 million fake dollars. The streets of Asangros, ancient city on Lima, has a reputation of the "black market", where fake US dollars, euros and Peruvian sols are produced (Fig.1). The price of one counterfeit dollar ranges from 11 to 25 US genuine dollars.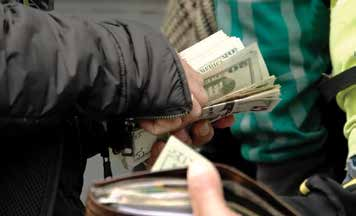 (Fig.1) Fake dollars selling on the black market in Lima.
The counterfeiter facilities are hidden in the remote outskirts of the capital, usually in poor and disadvantaged areas. The city's police visits these places constantly and even carries out anti-counterfeiter raids, resulting in seizure of printing equipment and fake money. However, authorities do not succeed in full elimination of counterfeiting, which has become rather a social problem in this country.
Nevertheless, this spring, the US Secret Service and local police detected one of the largest "factories" for counterfeit dollars production, which were recognized of a "high quality'ÄĚ. 76 million fake dollars were seized, the amount, of course, being more than impressive.
Such police operations aren't an extraordinary event on Lima's streets. The United States have seen over 16 million fake dollars in various states, distributed through small shops and other retail outlets. Methods of counterfeit banknotes delivery into the United States vary. For example, fake dollars are seldom found in the book binding, with each of them containing 42 pieces (Fig.2).
(Fig.2) Counterfei dollars founded in a book binding.

The printing process
To produce photo copies, Peruvian counterfeiters, firstly, scan original banknotes of US dollars of mainly large and medium denominations ranging from $ 20 to $ 100 (Fif.3). For printing banknotes, forgers use plain sheets of paper of a large size that were preliminary stitched together with a glue. The averse and reverse images of banknotes were printed on each side of a large sheet.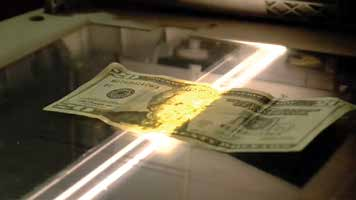 (Fig.3) Scanning genuine dollars is the first stap for Peruvian counterfeiters.

Paper
Then counterfeiters set about banknote paper imitation not only in terms of colour, but of security features as well. They split the sheets in two and scissor out banknote models to place it in a small basin of water, vinegar and bleach. The banknote paper turns yellow, matching with genuine banknotes' colour (Fig.4).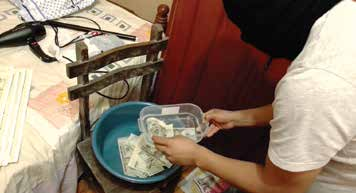 (Fig.4) The counterfeiter put a fake dollar model in the solution of water, vinegar and bleach.

Imitating security features
After a fake banknote being treated with a special solution, a counterfeiter should remove the upper layer of a wet paper with his index finger to make the banknote thinner according to the required level. Then a security thread and other features are put inside the split parts of the banknote.
Following the procedure, the recto and verso parts of a banknote are put together, dried and stacked under the press (Fig.5). Finally, each banknote is ironed and treated with a tooth brush impregnated with a solution of starch and transparent glue to imitate intaglio (Fig.6).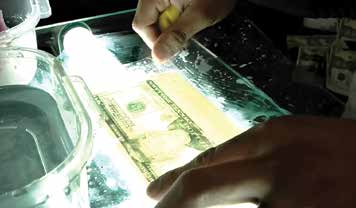 (Fig.5) The recto and the verso of a fake banknote are put together.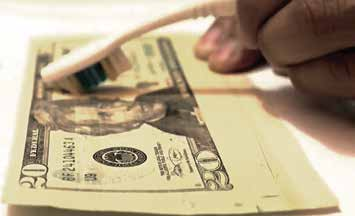 (Fig.6) Imitating intaglio with a toothbrush.

Counterfeiters work 18 hours a day in their hidden factory. In a three day shift forgers can produce 1200 fake notes, with each one costing $ 45. After being arrested and serving prison sentences, counterfeits usually continue their business. Peru is a poor country, with counterfeit banknote production being considered as a very profitable business. That is why this country is still the world leader in counterfeiting.
In majority, counteit dollar notes , which were founded in Lima, had mistakes in requisites, easily recognized by experts. Therefore, each professional banknote authentication should start with serial numbers and letters (Fig.7, Fig.8).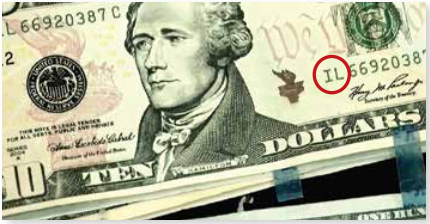 (Fig.7) The first letter of a $10 note of the NextGen series 2004A starts with "G", not "I", as the red circle indicates.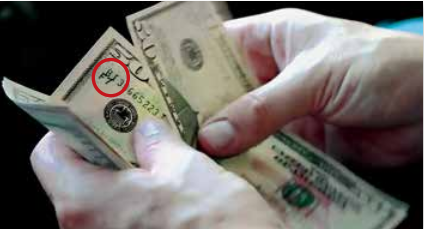 (Fig.8) The first letter of a $50 note of the NextGen series 2004 starts with "E", not "B", as the red circle indicates.

___________________________________________________________________________________________________________________
"NOTES AND COINS OF THE US FEDERAL RESERVE SYSTEM"
2014, 136 pages: illustrated. Rus./Eng.









¬ę The reference book 'ÄúBanknotes and Coins of the US Federal Reserve System'ÄĚ by InterCrim-press is the most comprehensive and detailed book on the circulating currency of the United States that I have seen. The banknote community recognizes a tremendous contribution that your organization has made to the knowledge of banknotes, in general, and, to banknote authentication process no matter what country it was issue from. Without that kind of information being available, potentially, less people would use and trust banknotes¬Ľ.

Tom Ferguson

24th Director of US Bureau of Engraving and Printing

Banknote 2016 Chairman
For your consideration we offer you, perhaps, one of the best manuals on authentication of US Federal Reserve System banknotes and coins for bank employees and law enforcement experts. No professional banknote analysis could be effective without the initial and the most important step 'Äď verification of requisites. The book features special tables for banknote authentication according to requisites: series, letter and digital index, signature of the Treasurer and the Secretary of the Treasury of the United States.
The reference book includes:
detailed illustrated descriptions of the US dollars in circulation and their security features;
descriptions of coins in circulation and most popular series of commemorative coins for regular circulation;
all types of currency notes (treasury notes, gold and silver certificates, national banknotes, World War II temporary currency, etc.) of the US Federal Reserve since 1928 until the present day;
all series of Federal Reserve notes (1928-2009) with description of their design, security features, and distinctive series features: 1928-1934, 1950, 1963, 1969-1988, 1990-1995, 1997-2006, the latest NexGen series.
READ A SAMPLE:
https://www.icpress.ru/upload/books/usa_eng_preview/
Want to order?

Go to https://www.icpress.ru/en/catalog/currency/
Similar news