Holography Awards Reflect Industry'Äôs Growth and Success Despite …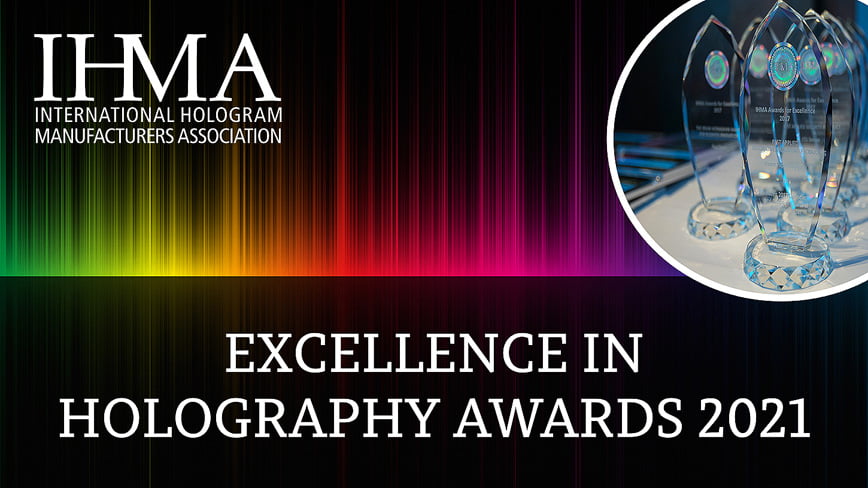 Holography Awards Reflect Industry's Growth and Success Despite Difficult Challenges
25.11.2021
The winners of this year's Excellence in Holography awards reflect a global industry that continues to expand, innovate and find new markets, according to organisers International Hologram Manufacturers Association (IHMA.
The awards mark the pinnacle of success for those who have been involved at the forefront of developing innovative or commercially viable hologram products or techniques over the last 12 months, recognising unparalleled sector achievement during the difficult and challenging times caused by Covid.
The 2021 awards saw Krypten Research and Production Company scoop the coveted 'ÄėInnovation in Holographic Technology'Äô award for its 3D-GRAM¬ģ CONTRUST Security Patch for the 100/50 Nobelists House Note.
The judges were particularly impressed by the intensive work of Krypten to create a security patch with innovative photopolymer-based security features. In particular, the 'Äėstriking and catchy'Äô element with a simple and unambiguous identification, enabling the patch to be applied both on paper and polymer-based banknotes.
The judges also recognised Surys in the 'ÄėBest Origination'Äô category for its Gold Fish 'Äď a unique piece featuring the first application of Plasmogram'ĄĘ Reverso on a banknote. Other category winners were:
'ÄėBest Applied Decorative/Packaging Product'Äô 'Äď Hazen Paper Company'Äôs 2021 Basketball Hall of Fame Enshrinement Yearbook
'ÄėBest Applied Security Product'Äô 'Äď Louisenthal'Äôs Azerbaijan 50 Manat with a RollingStar LEAD Mix foil stripe
'ÄėBest Display or Emerging Technology Application of Holography'Äô 'Äď Immersive Content Display Center'Äôs Yuri Denisyuk full-color CHIMERA Holographic portrait
'ÄėPeople'Äôs Choice'Äô 'Äď Nanotech Security Corp. UEFA Euro Tickets
Involving industry opinion formers, suppliers, manufacturers and end-users from around the world, the awards were again held online (17-18 November). Dr Paul Dunn, chair of the IHMA, commended the standard of entries as extremely high and eye-catching, contributing to a 'Äėconfident and strong'Äô industry that continues to evolve, innovate and secure new markets and exciting applications.
He added: 'ÄúOnce again, these awards celebrate the very best in holographic achievement and the many remarkable innovations the industry introduces each year. Creativity, flair and design excellence have again shone in the 2021 entries, reflecting how our industry continues to push the boundaries forward both technically and commercially.'ÄĚ
Similar news