World Banknote Summit 22 – 24 November 2021 ONLINE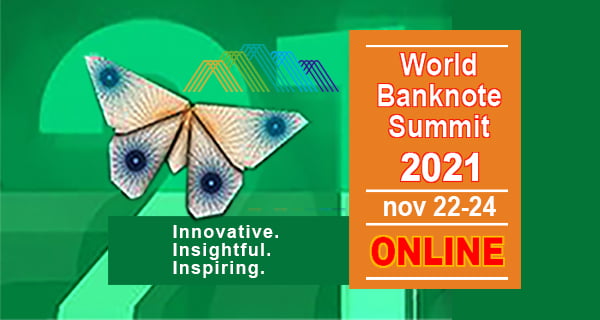 World Banknote Summit 22 – 24 November 2021 ONLINE
28.10.2021
The World Banknote Summit has announced the detailed conference program. Due to the Covid-19 pandemic, the event will be held online.
As always, the agenda of the World Banknote Summit takes up current topics and examines them from different angles.
Learnings from the Covid-19 pandemic
The Covid 19 pandemic is currently a "must" topic on the conference agenda. The chief cashiers of the central banks of Poland, Namibia and Mexico will explain how they experienced the outbreak of the pandemic and answer the question of how well they were prepared for this shock, what the biggest challenges were during the pandemic, what key lessons were learned and what measures have been taken to be prepared for the future.
What will the future hold for banknotes?
Another much discussed topic is Central Bank Digital Currency (CBDC). At the World Banknote Summit, participants will have the opportunity to learn the basics and will be given an overview of the current status worldwide. The question of how the gap between physical money, i.e. banknotes, and digital currency can be bridged, and what influence CBDC could have on the use of cash will also be discussed.
In one presentation, the question about the future of cash will be deliberated, and various scenarios will be presented. A concept on how analogue money could enable digital payments will also be discussed
Production related topics
The World Banknote Summit also has a lot to offer banknote printers: current production-related topics will be discussed in the "Printer Forum". Participants will have the opportunity to exchange experiences in a virtual meeting. Another presentation will show how a security printing plant of the future could be designed and operated, using the technology available at that time. The increasingly important role of software in banknote printing will also be highlighted and further innovations presented.
Registration for the World Banknote Summit is now open.
For more details and to register, please visit www.worldbanknotesummit.com.
Similar news