Banknote and Currency Conference February 21-24, 2022 Washington, DC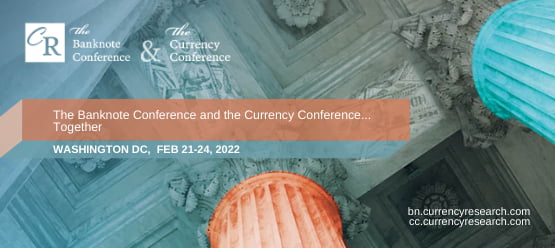 Banknote and Currency Conference February 21-24, 2022 Washington, DC
25.11.2021
Currency Research (CR), the event organizer, applies rigorous standards to quality programming to ensure all stakeholders in the banknote lifecycle are part of the conversation. This independent, neutral forum is critical for industry leaders to meet and discuss policy, efficiencies, best practices, and new strategies, as well as the latest technologies and solutions that benefit their operations.
CR is working together to design an exceptional program that highlights technological and policy developments, that encourages engaging industry networking and information-sharing in an open environment, and that inspires innovation to keep cash relevant, robust, and safe to handle.
The world has changed dramatically over the past year, and it is more important now than ever before to meet and discuss how the currency industry can respond and thrive in these challenging times and new payments landscape.
Topics Covered:
Access to Cash, Payments, and Financial Inclusions
Cash Tech
Communication and Education
Currency and Coin Developments in the Cash Cycle
Developments in Issuance and Production
From Physical to Digital: The Roles of Cash and CBDCs
Global Efforts on Counterfeit Deterrence
Perception Studies
Reducing the Ecological Footprint of Banknotes and Coin
Sponsor Innovations
Tour of the World's New Banknotes & IACA Awards
https://events.currencyresearch.com/event/61cfd8b9-2f1b-4542-b155-85c4b11d77cd/summary
Similar news