NOW VIRTUAL - 2021 EMEA Cash Cycle Seminar, November 2 & 3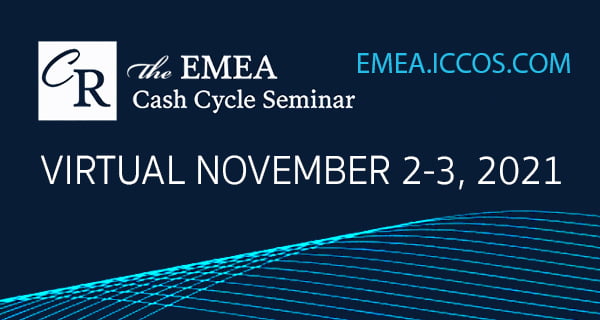 NOW VIRTUAL - 2021 EMEA Cash Cycle Seminar, November 2 & 3
25.10.2021
Due to ongoing travel restrictions, we will meet virtually once again. We have reformatted the agenda to better suit a virtual environment, streaming 2 days of live half-day sessions, covering the most relevant topics which are top-of-mind for cash leaders. Over 200 registered delegates from more than 40 countries, join your colleagues at the Virtual 2021 EMEA Cash Cycle Seminar! Click here to register.
The EMEA Cash Cycle Seminar's program focuses on regional implications for the cash management industry.
The Cash Cycle Seminar offers insights and strategies to help your organization:
Learn of valuable solutions and best practices shared by peers, many focusing on reducing the cost of cash within the commercial organizations' cash cycle.
Streamline processes and improve efficiencies to maintain a competitive edge – relevant topics will be discussed that are impacting the industry NOW!
Network with key executives from Central Banks, Commercial/Retail Banks, Cash Management Companies/Armored Carriers and others in the industry...get to know your commercial cash industry leaders and peers!
Bridge the cultural gap with firsthand understanding of your business strategies and perspectives in relation to the region's diverse cash management community.
Visit sponsor exhibits from the leading industry suppliers and learn of their new technologies and services that will help you reduce costs.
Meet Central Bank authorities and learn of new policy directives that could affect your business!
Understand the interdependence between banknote production and the cash cycle.
Who Should Attend
Armored Carriers
ATM Equipment/Service Providers
Audit, Control & Security
Automation & Work Processes
Automation Specialists
Banknote Processing Equipment Manufacturers
Banknote Quality Control
Cash Forecasting Software/Service Providers
Cash Recycler Manufacturers
Cash-in-Transit (CIT) Companies
Coin Management Solution Providers
Counterfeit Deterrence
Foreign Exchange Companies
Fraud & Risk Management
Independent ATM Deployers
Inventory Management and Distribution
Outsourced Cash Processors
Payments Agencies/Associations
Regulatory Compliance
Retailer Front and Back Office Solution Providers
Retailer Treasury and Operations Departments
Secured Packaging SpecialistsTheft Prevention Specialists
https://events.currencyresearch.com/event/748b787f-2946-47e4-9986-2c8b1aa8a55c/summary
Similar news