Monthly Newsletter "Banknotes of the World" #1, 2014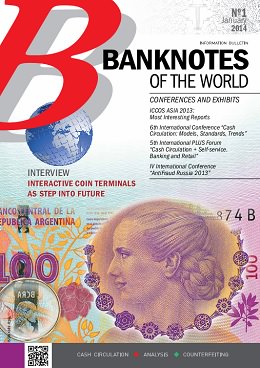 Monthly Newsletter "Banknotes of the World" #1, 2014
20.01.2014
EVENTS AND ANALYSIS
INDUSTRY NEWS
Banknote in Honor of Meeting
New €10 Coming
Honduras for Blind
Indonesian Rupees to Lose Zeros
Nigerian Pendulum
"Poetic" Renewal
Japanese Expanding Overseas
Misprint
Dominican News
New Denomination
CONFERENCES & EXHIBITS
PLUS Forum 2013
At the 5th International PLUS Forum, experts of the world currency industry presented a lot of important and hot-topic reports on key trends in cash circulation development in Russia and the world, and security issues of cash circulation. We continue conveying the most interesting speeches by conference participants on self-service banking, retail, and cash circulation.
6th International Conference "Cash Circulation: Models, Standards, Trends"
On 21-22 November 2013, Moscow's President Hotel hosted the 6th International Conference "Cash Circulation: Models, Standards, Trends" organized by the Association of Russian Regional Banks. The conference was attended by over 250 people: representatives of the central banks of Russia, France, Italy, U.S. Federal Reserve, banking equipment manufacturers, commercial banks, Russian Interior Ministry, RosInkas, Goznak, etc. The event focused on hot issues of organization, latest trends in cash circulation development and optimization, modern cash circulation standards and their practical application at commercial banks and cash collection companies, combating cash circulation crime and counterfeiting prevention. Main conference sponsors were DIIP 2000, Gamma Center, Giesecke & Devrient - LOMO, CJSC and RosInkas, Goznak and Crane Payment Solutions.
International Seminar for Commercial Banks ICCOS Asia 2013
On 11-13 November 2013, Bangkok, Thailand hosted another International Commercial Cash Operations Seminar (ICCOS) Asia. This annual conference organized by Currency Research has become the 4th event in Asia Pacific after Hong Kong (2010), Kuala Lumpur (2011), and Manila (2012).
Combating High-Tech Fraud
On 28 November, 2013 Moscow's Radisson Slavyanskaya Hotel hosted the 4th International Conference AntiFraud Russia 2013 organized by the Information Systems Academy, with support from the Bureau of Special Technical Measures (BSTM) at the Russian Interior Ministry, CBR and National Payment Council (NPC). The sessions addressed issues of combating high-tech fraud developed in banking, telecommunications, retail, and e-commerce, where leading representatives of governmental offices, banks, payment system operators, telecommunications providers, major fuel & energy and industrial companies discussed measures for preventing and combating IT and Web fraud.
INTERVIEW
Classics Already out of Fashion
One of key trends in recent banking service development has been client focus implying provision of service convenience, speed, customization, and an opportunity of interactive communication with a client. Active mobile and Web banking promotion, adoption of self-service devices, e-queuing terminals, etc. are designed to complete the task of creating client-oriented environment and enable banks to improve service efficiency and maintain service user loyalty. A new solution for the banking business, designed to meet modern market needs, was described in an interview for our journal by Vladimir Roshchin, CEO of P-M-T Soft, producing interactive new-generation coin terminals and being a long-term partner of Sberbank in creation and presentation of innovative banking products.
Banknote 2014 Conference (7-10 April 2014, Washington, DC, JW Marriott Hotel)
The premier tech conference on banknote design, technology, policy, and more
CHANGES IN CIRCULATION
NEW BANKNOTES (Guernsey, Bahamas, Brazil, Argentina, Bangladesh, Mauritius, Lebanon, Libya, Transnistria)Â 
GLOSSARY OF BANKNOTE SECURITY FEATURES
CONSOLIDATED INDEX OF CHANGES IN CURRENCY CIRCULATION: JANUARY-DECEMBER 2013 Â 
CRIMINAL MARATHON
Attention: Fake! - Stavropolye Counterfeiting

COUNTERFEITING
EXPERT ANALYSIS
Counterfeit Banknotes Seized in Russia in December 2013
Similar news